Spring clean your conservatory |The expert guide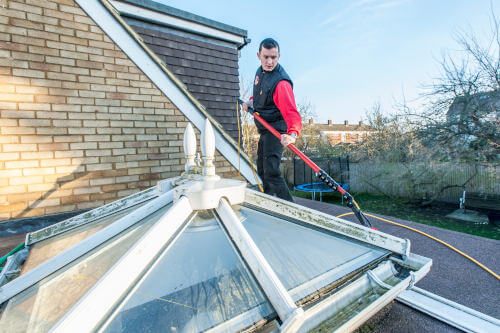 At this time of year, we are often called on to give conservatories a spruce up so our customers can enjoy the brighter, warmer weather and lighter evenings to the max.  The autumn and winter months can take its toll on the roof and frames of a conservatory, and it often takes some hard graft to rid those countless glass panes of dried watermarks and dirt to get them looking spotlessly clean again.  If you have some time on your hands and are thinking of having a go at giving your conservatory a spring clean, here is some useful advice to help you…

Cleaning a conservatory roof
The most popular materials for conservatory roofs is glass because it provides full transparency.  Plus, glass will let an abundance of natural sunlight through from all angles, creating a bright and open space.  Although a glass roof certainly does a great job in letting in light, it is notoriously difficult to clean. It is important to use the right techniques and tools in order to keep both you and the roof safe! Here are some pointers to help you achieve great results, safely:
Using a water-fed telescopic pole
The safest and most effective way to clean a conservatory roof is to use a water-fed pole with its own water supply as you can remain on the ground without having to horizontally stretch across at height.
We use telescopic poles with their own pure water supply.  The pure water we use teamed with the soft bristle cleaning brush attached to it, makes it easier for us to rid your conservatory roof of moss, dirt and anything else unwanted that has built up.  Afterwards, you can simply leave your roof to air-dry.
Using the manual method
If you don't have the luxury of a water-fed pole, a manual telescopic pole will still do a great job.  This will allow you to extend your reach to clean high and hard-to-reach areas (but you may need a ladder to aid your view).  Without the assistance of a water system, you will need to dip the brush side of the pole into a bucket of water and repeat.  Regular water changes will avoid transferring dirt back onto the glass.  Once you have cleaned the class, you can attach a squeegee to your telescopic pole and swipe away the excess, starting from one side and moving to the other.  When the glass surface is completely free of foam, a final wipe with a micro-fibre cloth to remove any streaks should do the trick for a pristine finish.
Which cleaning products should I use to clean my conservatory?
When it comes to cleaning products, be a little mindful that not every conservatory roof is the same.  For example, polycarbonate roofs are coated with a cocktail of chemicals that helps protect them from the elements so avoid using typical household cleaning products on this type of roof as you will end up damaging the coating.
As a general rule of thumb, avoid cleaning agents with alkaline or petrol bases, or indeed spirit-based cleaners (even on stubborn stains) because they could attack and damage the frame sections of your conservatory.  The soft brush on your telescopic pole also avoids you having to use metallic abrasive cloths or pads and potentially damaging the glass units and seals.
Warm, soapy water will do the job nicely in most cases.  If you can, purify your water, either by boiling it first or using a filter, to remove the impurities in tap water that sometimes cause spotting when left to dry on the surface.
Can you clean a conservatory with a pressure washer?
We would never recommend letting a pressure washer anywhere near your conservatory.  While pressure washers are great for cleaning a stubbornly stained patio, it can be very damaging to you conservatory.  The high pressure of the water can easily damage the seals and coatings and cause the admission of air and water into the structure.
Cleaning the frame of a conservatory
Most conservatories are constructed using uPVC, as uPVC is a very sturdy material that withstands the elements and lasts several generations.  Luckily, they are very easy to clean, and we find that the use of pure water alone will often do the business.  However, if you have a wooden frame, you'll need to take a little more care.  You may want your wooden conservatory to take on a natural, weathered appearance, in which case it will only need a gentle clean once or twice a year to remove mildew and mould.  Our top tip?  Use a water-resistant oil in your wooden conservatory, as this will help bring out the grain of the wood while keeping it strong yet flexible. 
How often should I clean my conservatory roof?
We recommend cleaning your glass conservatory roof every four to six months to prevent damage and decay and keeping looking like new.   However, an annual general service to lubricate locks, handles and hinges, clear the guttering, downpipes and drainage slots, and applying protective oil will also serve you well.
So there you go,  some tips on how you can give your conservatory (and much loved expansion to your living space) the attention it deserves, enabling you to enjoy your garden as much as possible (even in the colder months and chilly evenings).  If you would rather let us take the strain conservatory cleaning, we'd love to help.  Just give us a call on 020 3633 5963.